In August 2013, our crew of staff and volunteers started work on our current build site, Kehl Street. This development will house 45+ multi-dwellings, making this project Habitat for Humanity Waterloo Region's largest development to date.
Big Projects
Habitat Waterloo Region is currently building its largest condominium project to date at Kehl Street in Kitchener. The Kehl Street build, which broke ground in 2013, has 8 blocks made up of spacious, three-storey townhomes.
When completed, it will be home to over 45 lower-income families, many of whom have already moved in and have begun to live their dream of homeownership.
Be A Part Of The Project
In a community filled with many needs, you can make a difference by helping us complete this awesome project and help more families have affordable places to live, spaces where they can live healthier, gather together, build memories and plan for a brighter future.
With Big Support
Manulife and Kitchener Rangers generously donated a new playground giving the families a place to grow as a community through play, creativity and conversation.
Thank you to those in the community who have offered these wonderful families a hand up through donations, volunteering and support. Learn how you can be a part of changing the lives of families in your community.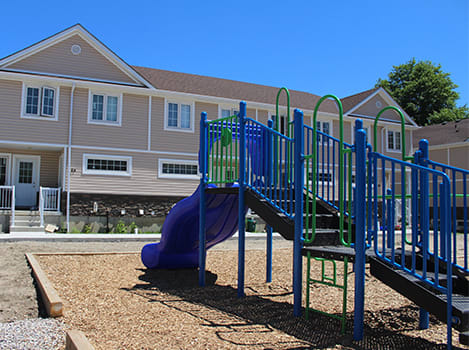 Stories From This Project
For Jane and her family, the work they put into their home and the value they see in Habitat for Humanity Waterloo Region means everything to them.
Working on builds like Kehl Street with Habitat for Humanity is an opportunity to strengthen a community, and provide volunteers an education and experience they will never forget.