In 2000, Habitat for Humanity Waterloo Region hosted the first Women Build in Canada. Since then, this empowering event that strengthens our community has grown. 2020 will be the 20th anniversary of the Women Build in Waterloo Region!
Building Stronger Communities
Women Build Week is an inclusive event; everyone with a desire to build homes and communities is welcome! During the week, volunteers build confidence while learning, having fun, and supporting their neighbours. As a volunteer, you can take pride in the work you will do as it has a lasting impact. Educating women is essential to a strong and healthy community. From our first Women Build in 2000, we have been able to create a comfortable learning environment for women with diverse levels of experience.
Twenty Years Strong
 As we learn, we celebrate the skilled women in the trades who have joined us, and we encourage more women to learn trade skills. Gather your friends, your family, your coworkers, or plan to make new friends on the build and together we can take action through building affordable housing. Be sure to check back here for more information on our 20th anniversary Women Build Event, and start signing up for shifts in February.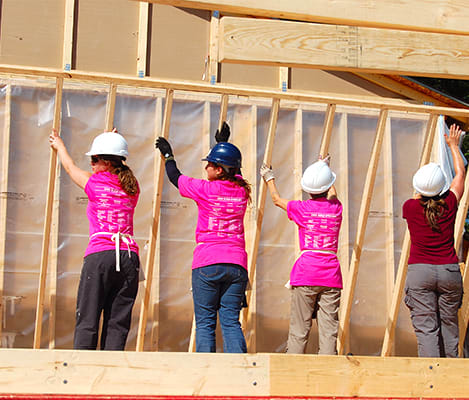 Can't wait until next summer to join us on a build?
Click below to register with Habitat for Humanity Waterloo Region as a volunteer today.